Fundraising with Evergreens - Holiday Fundraiser         
"Our fifth grade class sold greenery for their graduation fundraiser. Teufel's offered lots of different items, wreaths, swags, the works! Tons of beautiful, fresh greenery to choose from, it was a big success, and everyone was very pleased with their holiday greens! Teufel's made it easy!"



Patty Weightman, parent, Bridlemile School
Portland, Oregon
Meet your Fundraising goals with E.A.S.E


Everyone Achieves Success with Evergreens






Our E.A.S.E® FUNdraising Division features a select line of fragrant, seasonal gifts that can be hand delivered or mailed direct to family, friends or business associates. We help you meet your goals every step of the way. E.A.S.E® is the perfect way to earn profits for your group and share the "Spirit and Traditions of the Season".




The Quality of Teufel Evergreen Products Make Sales E.A.S.E-Y®

FRESH - All products are harvested at the last possible moment; solution bathed and kept in state of the art cooling systems for ultimate freshness and quality.

HARVESTED BY HAND - Protecting the environment is a way of life for us. Controlled harvesting is our way of ensuring quality evergreens will be available in the Northwest forests for generations to come.

HAND-MADE - Hand making produces a stronger, more uniform overall finished product that stays together and maintains its shape longer. If it's not hand-made, it's not from Teufel Holly Farms!

LUSH & FULL - Optimum growing conditions found in the forests of the Pacific Northwest produce the finest evergreens available. Experienced wreath makers then weave these quality greens into lush, full specialty items. All finished products must pass our strict Quality Control Standards prior to being packed for shipment to the customer.

You Profit from our Experience

and

Quality Sales Material!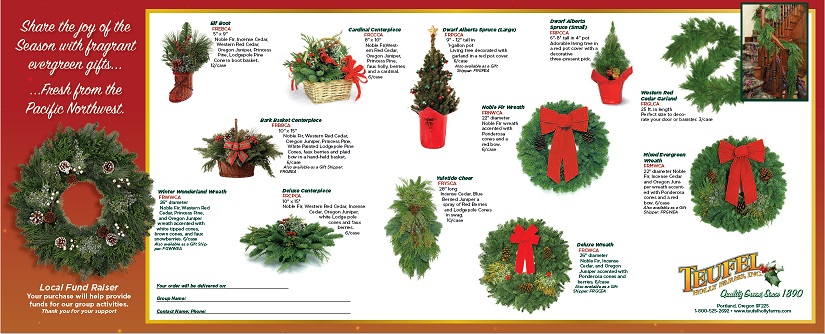 We provide you with our proven step-by-step instructions for your fundraising campaign and beautiful full-color brochures to help your organization's members meet your goals! All forms are available here on our website for your immediate use. Just use the Useful Tools link to our Downloadable Forms. Print materials on your personal color printer or save the materials to a diskette to take to your local print or copy shop.




Enthusiasm = Excitement = Sales = Success!
  The key to successfully achieving your fundraising goal is in selecting a fundraiser everyone in your group can support with 110% of their enthusiasm. Selling evergreen products during the holidays is truly one of the easiest fundraisers any group can do.
It's EASE-Y® to motivate and excite your group members with our full range of colorful product brochures and marketing material. We'll give you all the tools and assistance we can to help you achieve your goals.
Our evergreens are competitively priced and of outstanding quality. We've built our reputation on the quality of our greens. Everyone in your group will sell them with pride.


Organize for Success
-Plan ahead - organize early.
-Designate goals and sales areas for each member of the team.
-Sell a balanced mix of products to increase appeal to customers.
-Track your order results by using our EASE® pre-formatted Tally Sheet in Microsoft Excel.
-Enjoy the most profits your group has ever generated!

E.A.S.E® is E.A.S.E-Y® because...
Everyone Achieves Success with Evergreens!